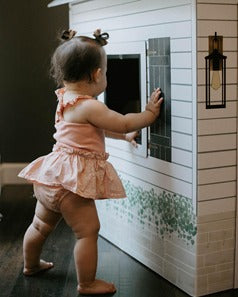 Open space. Clear surfaces. Endless possibilities. Whether you're already a minimalist or just striving for the feeling of a fresh start, reducing the items left out in your home can have a positive effect on your mindset. While this applies to any home, it is particularly important for parents or caregivers of children, who regularly deal with all the "stuff" that comes with raising tiny humans. Thankfully, there are now an array of indoor toys for kids that lend themselves to minimalism, including the indoor modern playhouse.
Long gone are the days of large, primary colored, heavy monstrosities being the only options for your children's indoor playhouses. Modern playhouse designs, including the Make It Cute foldable modern farmhouse playhouse, allow for flexibility in your home and children's playspaces. After a fun-filled day of imaginative playtime, which often comes with what, from the outside, could be perceived as "just a mess", it is such a relief to have options to make your living space feel calm and clutter free at the end of the day. 
Minimizing the clutter in your home is tied to many benefits that span from improving your health, saving time, and reducing your negative impact on the environment. While the idea of becoming a minimalist may seem overwhelming, in this post, we will share a few simple strategies to get you started!
"Edit your life frequently and ruthlessly. It's your masterpiece after all."
 ― Nathan W. Morris
Benefits of Minimalism:
Reduce Your Environmental Footprint
We all know how important it is to do our part in protecting the earth and that individual choices can add up to a large difference when it comes to protecting our planet. Minimalism promotes sustainability by reducing consumption and waste. It minimizes the demand for resources, lowers carbon footprint and encourages a more eco-friendly lifestyle. It's simple, the less you own, the less you are wasting. Minimalism does not mean that you make no purchases, it just means that when you do, you're very particular about which ones you purchase. By being discerning about which products you bring into your home, you can make sure the ones you do choose to add are multi-purposed and eco-friendly, like our modern farmhouse playhouse.
Positive Effects On Well Being
Purposefully minimizing the items in your home can have a marked benefit on your overall wellness, including your mental health. According to Psychology Today,  "physical clutter begets mental clutter". Reducing the physical excess in our homes can reduce stress, increase focus and productivity, provide more financial freedom, and improve relationships. 
Having a minimalist mindset can reduce stress. Whether you realize it or not, the amount of items in your home are making you tired. The physical tidying up of your home, including the decision fatigue that is necessary to decide where items belong in the home, are draining your energy. 
By the time bedtime comes along, we're exhausted but when we make our way to our rooms, there's often a bigger accumulation of stuff. Since bedrooms are often hidden behind a closed door, they end up accumulating more items than the rest of your home by default. Many times they are used to hide items when company comes and are at the bottom of the priority scale since living spaces are where guests spend their time during visits. The conundrum is, clutter has an effect on our sleep. Therefore, prioritizing minimalism in bedrooms will lead to better sleep. This goes for your children's rooms as well, which is why having an indoor modern playhouse is a great choice for children's rooms since it can be easily put away at the end of the night to reduce clutter and make their room more conducive for a great night's sleep. 
Deeper and More Meaningful Play For Children
Research shows that children who are presented with fewer toys have more meaningful and longer play times than children who are surrounded by many toys. This is great news for maintaining a minimalist mindset as it lends itself to choosing toys that are more meaningful, open ended and serve multiple purposes. A modern playhouse is perfect since children can spend a ton of time engaging in imaginative play throughout the day and when it is time for sleep, its' thoughtful design allows it to be easily folded for storage until you're ready to use it again! Choosing to consciously curate your living spaces, including adding a modern playhouse to your space, help you seamlessly contribute to a balanced and clutter-free lifestyle. 
Having less items to clean means spending less time cleaning! Reducing clutter and keeping only essential items equals more time to spend on things you enjoy! A byproduct of minimalism is having a more streamlined daily routine and less decisions to make regarding what goes where. With everything having its place, decision fatigue is reduced and your energy can be spent on what you choose instead of organizing items that aren't meaningful to you or your family.
Strategies To Start Your Journey Towards Minimalism: 
Define what Is Important:

Everyone will have different reasons for deciding to reduce the clutter in their homes. What is important to you? You need to decide whether you're taking these steps to have more money, enjoy more time with family, reduce your mental load, etc. Whatever it is, it will be the basis for your journey towards simplifying your home and it is important to define your reasons upfront so that they can keep you motivated and help you throughout the process. 

Start Small:

Start with one area of your home. It does not have to even be one full room. You can decide to declutter a shelf in your closet, a bin of your child's toys, or one surface in your kitchen. Once you see the positive results from this one area, you will feel more motivated and excited to continue your minimalist mindset. 
Mindful Purchasing:

Be intentional about what comes into your home. It may help to think of every purchase as one more item you have to manage. For example, when you're considering a purchase, you can ask yourself: "Where will this item live in my home? How often will it need to be cleaned? Does it need to be maintained (needing new batteries regularly for example)? What is this money being taken away from?", "Does it serve multiple purposes?" These questions will help you determine whether the item is worth the mental and physical "expense" of the purchase. 

Embrace Essentialism: Think in terms of wants versus needs. Doing so can put things into perspective for you when deciding what stays or goes in your home. If it takes away from what is important to you, it is time to let it go. When you start thinking in terms of only what you need in life, it is easy to see everything else as superfluous, or unnecessary. 
Celebrate Progress:

Growth mindset is critical when beginning something new since we are often not immediately great at a new skill. It is important to look at how far you've come on your path and consider your progress instead of being discouraged by striving for perfection. Did you reduce the amount of items in your home this week? Excellent, celebrate that! Did you not purchase something new that you may have last week? Awesome, keep up the good work! Work towards the end result with small steps and you're bound to make a large difference in the overall feeling of your home. 
Whether you're a minimalist or a maximalist, we can all relate to that feeling of calm that comes with walking into a clean and simple space. By making conscious decisions about what items you keep in your home, you're helping yourself and your family improve their quality of life. Items like a toy storage ottoman or modern farmhouse playhouse can serve double duty in a room and be used for multiple purposes. The toy storage ottoman provides needed storage for those items that you decide to keep in the home, and look chic and polished to aid the minimalist look. The indoor modern playhouse is enjoyed as a fun and open ended toy for your child that also has the ability to be folded and moved out of sight when not in use, a win-win. 
Decluttering has many positive impacts on mental and physical health, environmental sustainability, and the quality of family life. By utilizing the strategies above, you can start your minimalist journey today and look forward to the positive benefits that will follow! 
---