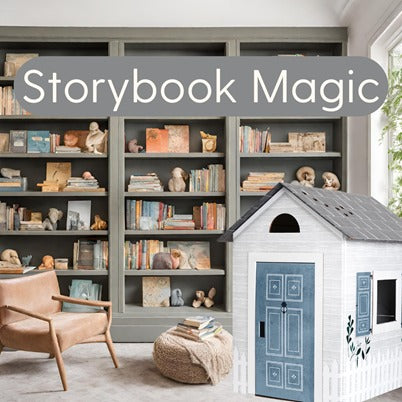 As parents and caregivers, we are constantly on the lookout for ways to spark the imagination of our little ones. In the age of technology, where screens often dominate playtime, there is a timeless and enchanting alternative that is making a comeback – the charming cottage playhouse. These whimsical structures not only transport children to a world of make-believe but also serve as a sanctuary for creative exploration. A twist on the timeless classic, these modern playhouses elevate your child's playspace aesthetically and in functionality. The playhouse cottage provides a space for children to play independently, or with friends or siblings, where their imaginations can run wild. The playtime possibilities are endless. Picture this: a quaint, charming cottage playhouse nestled in the corner of the living room, surrounded by the laughter and joy of children lost in their own magical world. These playhouses, with their miniature doors and windows, provide a safe haven for imaginative play that goes beyond the ordinary. 
The Allure of The Cottage Playhouse
But why opt for a cottage playhouse? Well, the answer lies in the enchanting blend of simplicity and creativity they offer. These miniature abodes serve as a canvas for your child's imagination, transforming the mundane into the extraordinary. Their play experiences can range from simply playing house, to creating their own magical worlds, where they are the originators of their own adventurous stories. 
The Magic of Imaginative Play
it's crucial to make the most of these formative years. Enter the playhouse cottage – a gateway to a world where the boundaries of reality blur, and the only limit is a child's boundless imagination. According to the British Broadcasting System (BBC), imaginative play in early childhood is not only fun for children, but important because it "helps develop your child's language and social skills." 
How does it work? The concept is simple yet profound. A charming cottage playhouse becomes an open stage for play, ready to be transformed into a castle, a spaceship, a pirate ship, or a secret garden – all at the whim of your child's imagination. This form of play fosters creativity, problem-solving skills, and social development in a way that structured activities often cannot. It allows children to put themselves into scenarios that they may have only seen in storybooks. They can become someone they are not, which allows them to act and speak like someone with a different set of vocabulary than themselves, fostering vocabulary building and language development. Children will put themselves in the place of favorite characters, or completely fabricated ones, which not only allows them to practice new words, but also helps them work on putting themselves in someone else's shoes, an important element of social-emotional development. 
"After nourishment, shelter, and companionship, stories are the thing we need most in the world." — Philip Pullman
The Educational Value of Playhouse Cottages
While the primary goal of a cottage playhouse is to provide a space for fun and imaginative play, its benefits extend far beyond mere entertainment. Experts agree that unstructured play is essential for a child's cognitive, emotional, and social development. As explained by the American Psychological Association, "interactive play…teaches empathy, reciprocity, sharing, problem-solving, perspective-taking, cooperation, and more as well as fosters feelings of connection and acceptance." 
Problem-Solving:

As children navigate the space inside and outside of their

playhouse cottage

, they encounter various challenges that require problem-solving. Whether it's figuring out how to arrange the furniture for an optimal reading nook set up or developing a story for their imaginary tea party, these challenges contribute to cognitive development. Kids are able to practice flexible thinking by coming up with ideas that support "out of the box" thinking which they may not be able to practice in their day-to-day activities. 

Social Skills:

Invite a few friends over, and suddenly the

cottage playhouse

transforms into a bustling hub of social interaction. Negotiating roles, sharing space, and co-creating imaginary scenarios enhance a child's social skills in a way that no organized activity can replicate. Playhouses are like magnets for children. They invite even the shyest child to get involved and interact with other kids in a natural, low pressure, environment. 

Language Development:

Narratives unfold within the walls of the

playhouse cottage

, giving rise to a world of stories and adventures. This narrative play is a natural boost to language development, expanding your child's vocabulary and storytelling abilities. It also helps children's receptive language development, where they are listening and taking in language for comprehension and understanding, because it exposes them to new language and ideas from other children (or adults) that they would not normally hear throughout their day. This exposure allows children to hear new ideas in context which expands your child's comprehension skills. In addition, make believe scenarios allow children to practice asking and answering questions which builds their overall cognitive development. 
Choosing The Perfect Playhouse Cottage
Now that the benefits are clear, how do you go about choosing the ideal playhouse for your child? Start by considering what is important to you…Aesthetic? Durability? Flexibility of use?
Size And Space: Consider the available space in your home. Measure the space and choose a size that fits seamlessly into your child's play area. Think about an option that provides flexibility, like a foldable design, where you can easily set up and take down to easily store it based on your needs. 
Material And Durability: Look for playhouses made from durable materials that can withstand the wear and tear of enthusiastic play. Durable playhouses will allow for years of enjoyment rather than just a season of limited fun. Contemplate designs that are earth friendly and won't harm the environment. 
Design And Customization: The allure of a playhouse cottage lies in its design. Some come pre-decorated with intricate details, while others provide a blank canvas for your child to decorate as they please. Opt for a design that resonates with the design of your home. Many children's toys can dominate a room with their bold primary colors. Designs that can stand the test of time are more elevated and stylish and seamlessly blend into your home's aesthetic. 
Bringing The Charming Cottage Playhouse Home
Once you've selected the perfect playhouse cottage for your child, the real magic begins. Set it up, and in a flash, that space will be transformed and ready for memories to be made. Watch as your child's eyes light up with excitement.
Accessories And Furnishings: Enhance the play experience by adding a few accessories and furnishings to the charming cottage playhouse. A miniature table and chairs sitting outside the playhouse, soft cushions, and even fairy lights inside can transform the space into a cozy retreat.
Encourage Storytelling: Ask your child about the adventures unfolding in their playhouse cottage. Engage in their imaginative narratives, and perhaps even join in the play. This not only strengthens your bond but also encourages language development and creative thinking.
Rotate Toys: Keep the playhouse cottage experience fresh by rotating toys and props regularly. This prevents boredom and introduces new elements for your child to incorporate into their imaginative play. With a flexible design, the playhouse itself can also be rotated throughout the home, providing a magical surprise when your child returns home from an outing or walks into their room after a long day at school. 
A Gateway To Endless Adventures
In the fast-paced world of technology and structured activities, the playhouse stands as a timeless beacon of imaginative play. It's more than just a toy – it's a portal to a world where dragons can roam, tea parties with teddy bears are a daily occurrence, and every nook and cranny holds the promise of a new adventure.
So, step into the enchanting world of storybook magic with a cottage playhouse. Watch as your child's eyes sparkle with wonder and witness the formation of memories that will last a lifetime. After all, in the realm of childhood, a charming cottage playhouse is not just a plaything – it's the key to unlocking the door to limitless imagination.
---