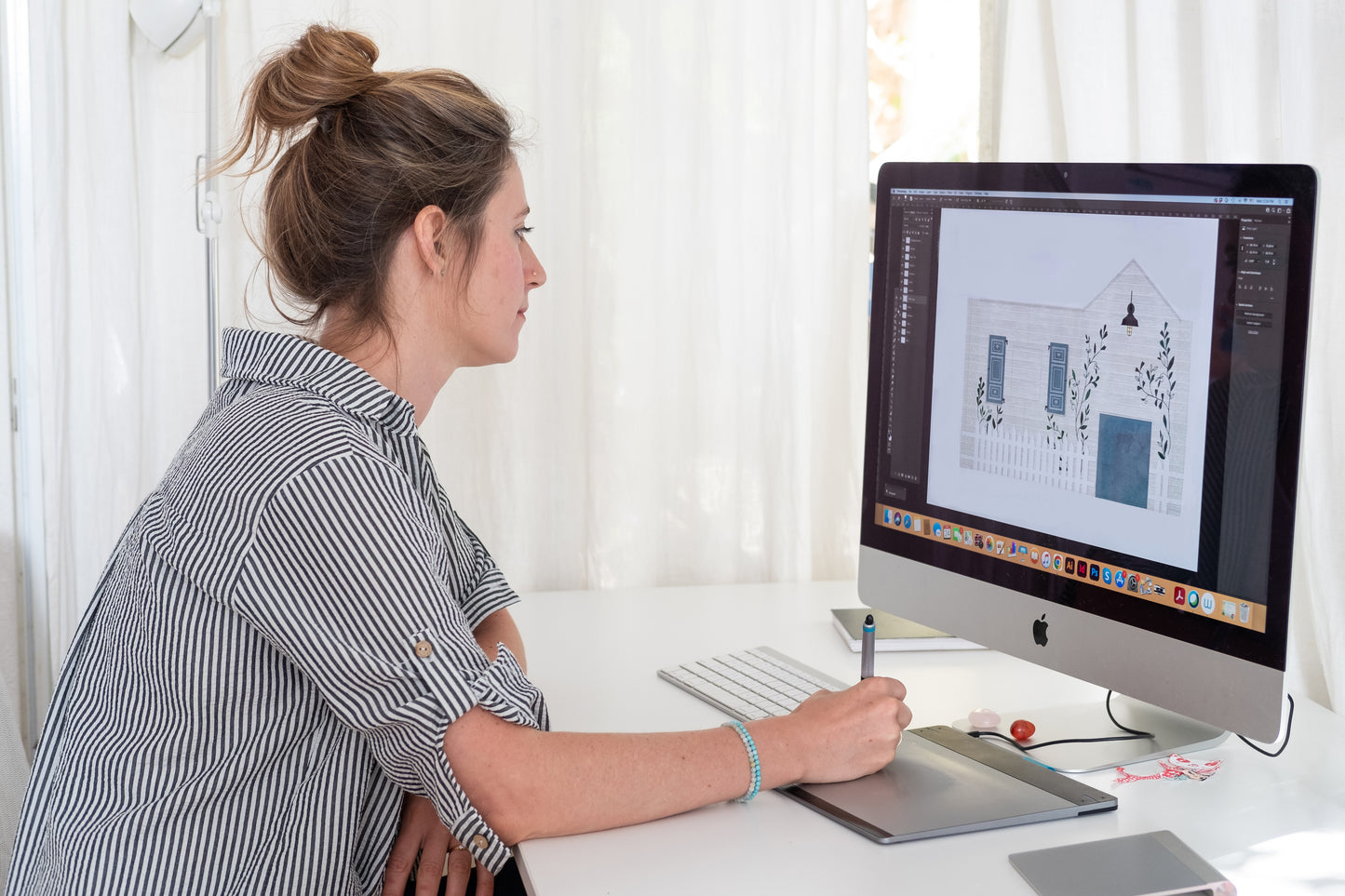 Join us for an enlightening conversation that offers a BTS look into how both Make It Cute's Cottage playhouse and the Modern Farmhouse playhouse came to life as they worked to create the most thoughtful and beautiful indoor toys for kids. The Make It Cute team spent over a year and a half of design time before starting illustration work with Sophia Vincent Guy. Upon their first conversation with her, they knew that they had finally found someone who truly aligned with their aesthetic and could help bring their vision to life. Find out how Sophia's background lends itself perfectly to creating these adorable designs and what it is like working with Amanda, Anne and Maureen!
Tell us about your design process for the Make It Cute playhouses. Did you really hand-illustrate every little detail?!
The design process starts with research such as looking for photos for inspiration and then trying to figure out textures and styles and colours for each element.  I tend to go to colour and texture immediately to understand the direction rather than doing many sketches.  This involves experimenting with paints, inks, pencils and papers outside the computer and then bringing them into Photoshop and adjusting things there.  Then I dive into all the little details, which I especially love. And yes, they are all hand-drawn either on paper with my watercolors or on my iPad with a digital pen and often both mediums together. 

How did you create that perfect floor design on the Cottage?
The wood floor for the Cottage even surprised me. It felt like magic when it came together because it started with a few swooshes of ochre watercolour paint with my flat bush on a nice thick paper. I then took those swooshes into photoshop and cut them into rectangular "planks", adjusted the colour of each one just so, and then detailed the wood grain into each one using my special digital pen. It's always fun to watch that kind of texture come to life.

Tell us about your background. How perfect is it for these tiny houses that you are both an architect and an illustrator?
Yes, it really is the perfect combo for the Make It Cute houses! I studied architecture at McGill University in Montreal for 6 years. I finished the Masters program in 2007 and then worked in residential architecture offices in Montreal, Boston and New York City until 2014. When our family moved to Israel I decided it was time to make a shift and follow my dream to become an illustrator.  Somehow through intention, hard work, and wonderful friends and family, I flowed into officially opening up my studio in 2015. It has been an incredible adventure since then from helping to launch The House of NOA playmat company to illustrating all the holiday guides for PJ Library and drawing children's books for Busy Hands Books, Ten Speed Press, and Candlewick Press, and now the great pleasure of working with Make It Cute bringing together this whole tapestry of experiences.

What was your favorite part about working with the Make It Cute team - Anne Hoehn, Amanda Seyfried, and Maureen North?
Working with the Make It Cute team has been wonderful! We share a similar aesthetic and I am always excited by the design directions Anne, Amanda and Maureen propose. They are organized and flexible and give me freedom to take ideas in interesting directions.  They also have good and thoughtful suggestions throughout the design process and are very encouraging, which is so energizing for a designer. I also really appreciate that we are all obsessed with the details; it helps to make an excellent product that we are all proud of. 


Now that all of your hard work has finally come to fruition, tell us what it's like having a Make It Cute playhouse in your house. How has your family been interacting with it?

My kids were excited when it arrived but to be perfectly honest, I stole it and put it in my studio so I could use it to help me design the next ones. My youngest pops into the studio and shows the playhouse off to her friends but she is especially excited about the next design and wants it. I expect that will keep happening…😂
---