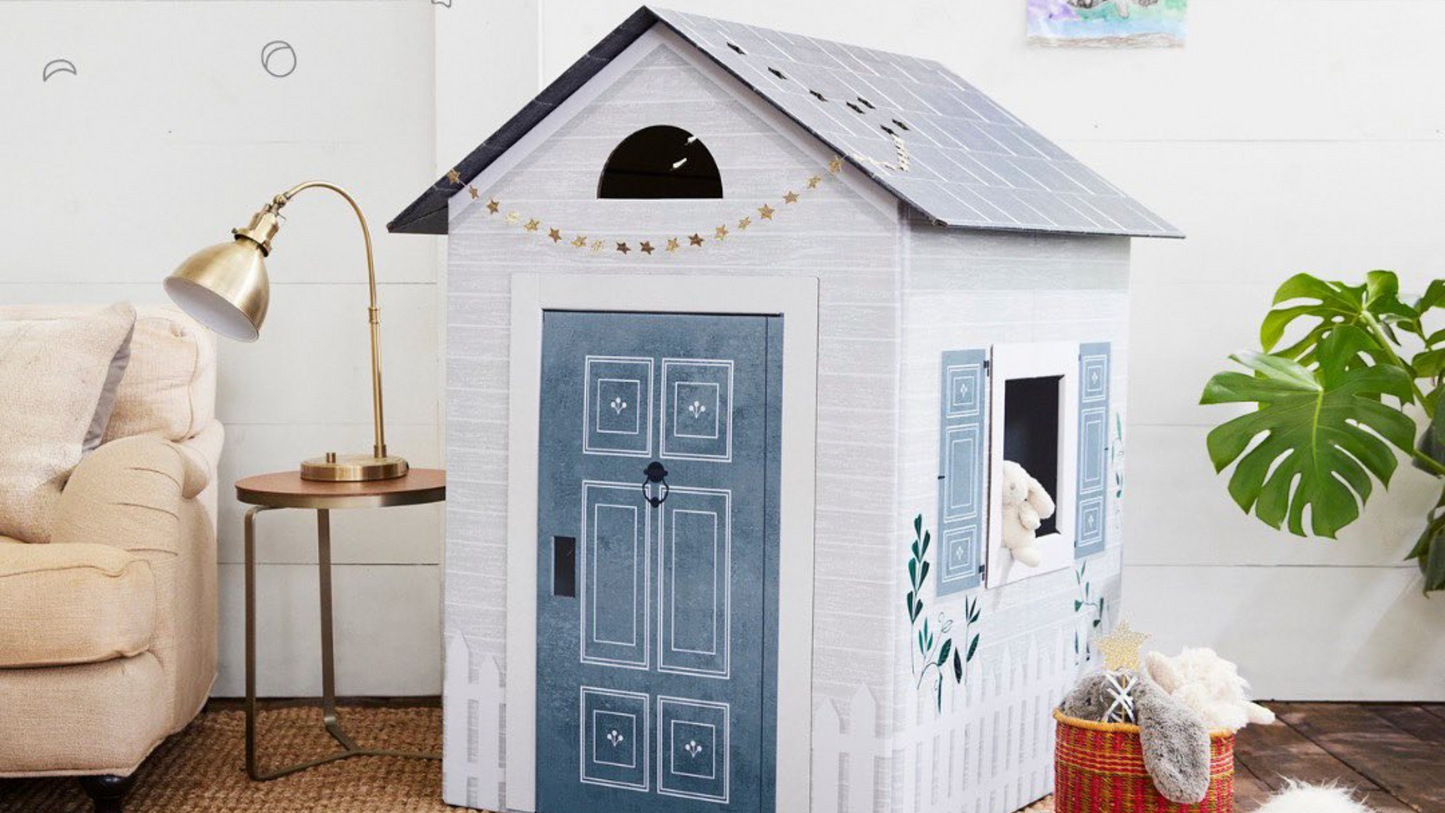 Toddlers are curious, always eager to explore their surroundings and learn new things. A toddler playhouse is the perfect place for them to do just that! Toddler playhouses come in all shapes and sizes, but they all have one thing in common: they're a blank canvas for toddlers' imaginations. Whether your little one wants to be a princess, a firefighter, or an astronaut, they can use their playhouse to create their own magical world.
The Allure of Toddler Play Houses
Playhouses have an undeniable allure for toddlers, captivating their hearts and minds with a world of endless possibilities. These miniature abodes, often resembling real houses or fantastical structures, hold a special place in the world of childhood play. The appeal of toddler playhouses goes beyond mere entertainment; they serve as a gateway to imaginative exploration, creative expression, and developmental growth.
Playhouses are like blank canvases that kids use to make up lots of amazing stories. When kids play in them, they pretend that the playhouse is a whole different place, like a castle or a spaceship. These stories can be anything they want – from going on adventures to having tea parties with teddy bears. The playhouse becomes a stage where their imagination takes center stage, and they can be whoever they want to be and do whatever they want to do. It's like a magical world where the only limit is their creativity!
Key Features To Look For In A Toddler Playhouse
When it comes to selecting a toddler playhouse, three crucial factors stand out as the cornerstones of the perfect choice: safety, interaction, and durability. Let's take a closer look at these key features to ensure that your toddler's playtime is not only engaging but also secure and enduring.
Safety First: Safety is paramount when choosing any play equipment for your toddler. A well-designed playhouse should be constructed from non-toxic materials, ensuring that your child's play environment is free from harmful substances. 
Interactive Elements: Toddlers thrive on interactive and hands-on play experiences. Look for a playhouse that offers various interactive elements designed to stimulate your child's imagination and creativity. From mini kitchens to steering wheels, interactive components enhance play and exploration.
Durability: Toddlers are bundles of energy, and their play can be quite exuberant. A playhouse built to endure this enthusiastic play is a must. Look for the following features that ensure the playhouse's durability: Sturdy Construction, Weather Resistance and Reinforced Joints.
As you search for the ideal toddler playhouse, remember that safety, interaction, and durability are the foundation upon which unforgettable play experiences are built. Prioritizing non-toxic materials, interactive features, and sturdy construction guarantees that your child's playtime is both enriching and secure. By investing in a playhouse that encompasses these key features, you're giving your toddler a world of exploration, creativity, and joy while providing yourself with the peace of mind that comes from knowing their play environment is safe and reliable.
Popular Themes That Captivate Little Minds:
Step into a world of captivating playhouse themes that whisk toddlers away to extraordinary realms:
Allow young princes and princesses to reign over their own enchanting kingdom within the walls of a charming castle playhouse. From turrets to drawbridges, these castles are the perfect backdrop for royal adventures and imaginative storytelling.
Unleash the spirit of exploration with playhouses that transport toddlers to the heart of the jungle. These huts ignite their curiosity, encouraging them to embark on daring quests and discover the mysteries of the wild in their own backyard
Fuel the dreams of young astronauts with playhouses that propel them into the cosmos. These space stations ignite creativity, inspiring cosmic voyages and missions among the stars, fostering a love for science and the wonders of the universe.
With these captivating themes, toddlers can immerse themselves in imaginative play, fostering cognitive development and creating memories that will last a lifetime.
Personalizing Your Toddler's Play Space: 
Turn a playhouse into their very own haven with these creative touches:
Colorful Customization

: Splash their playhouse with their favorite colors for an instant burst of inviting charm. Vibrant hues set the stage for endless adventures and imaginative play.

 Decorative Touches:

Elevate the cozy factor by adding curtains, cushions, and whimsical wall decals. Transform their space into a comforting haven that sparks their imagination.

Thematic Accessories:

Dive deeper into the theme with accessories that match their playhouse's world. From fairytale accents to jungle-inspired details, these accessories make their play experience even more immersive and exciting.
By infusing their play space with these personal touches, you're creating a magical retreat where their imagination can flourish and unforgettable stories can unfold.
Educational Value: 
Toddlers' playhouses offer more than just entertainment – they're fertile grounds for invaluable learning experiences:
Development of Social Skills

: Within playhouses, little ones engage in role-playing scenarios, fostering essential skills like cooperation and communication. Through imaginative interactions, they learn to share, negotiate, and work together, setting a strong foundation for future social interactions.

Problem-Solving

: Imagination knows no bounds in a playhouse, and this encourages toddlers to tackle challenges head-on. As they invent scenarios and navigate through them, they develop problem-solving skills and learn to think critically, a skillset that carries them through life.

Spatial Awareness

: The playhouse environment encourages toddlers to manipulate space as they navigate through it. Whether it's arranging cushions, moving mini furniture, or envisioning new layouts, this play enhances their spatial understanding and cognitive development.

These educational dimensions seamlessly blend with the joy of play, making toddler playhouses not just entertaining but also empowering tools for growth.
Discover The Best With Make It Cute:
When it comes to providing toddlers with captivating playhouses, look no further than "Make It Cute." As a beacon of quality and creativity, "Make It Cute" offers an array of enchanting playhouses that promise endless imaginative adventures. From safety-conscious designs to interactive features and educational value, these playhouses encapsulate the essence of childhood magic. Explore "Make It Cute" and give your child the gateway to a world of cherished memories and boundless creativity.
---