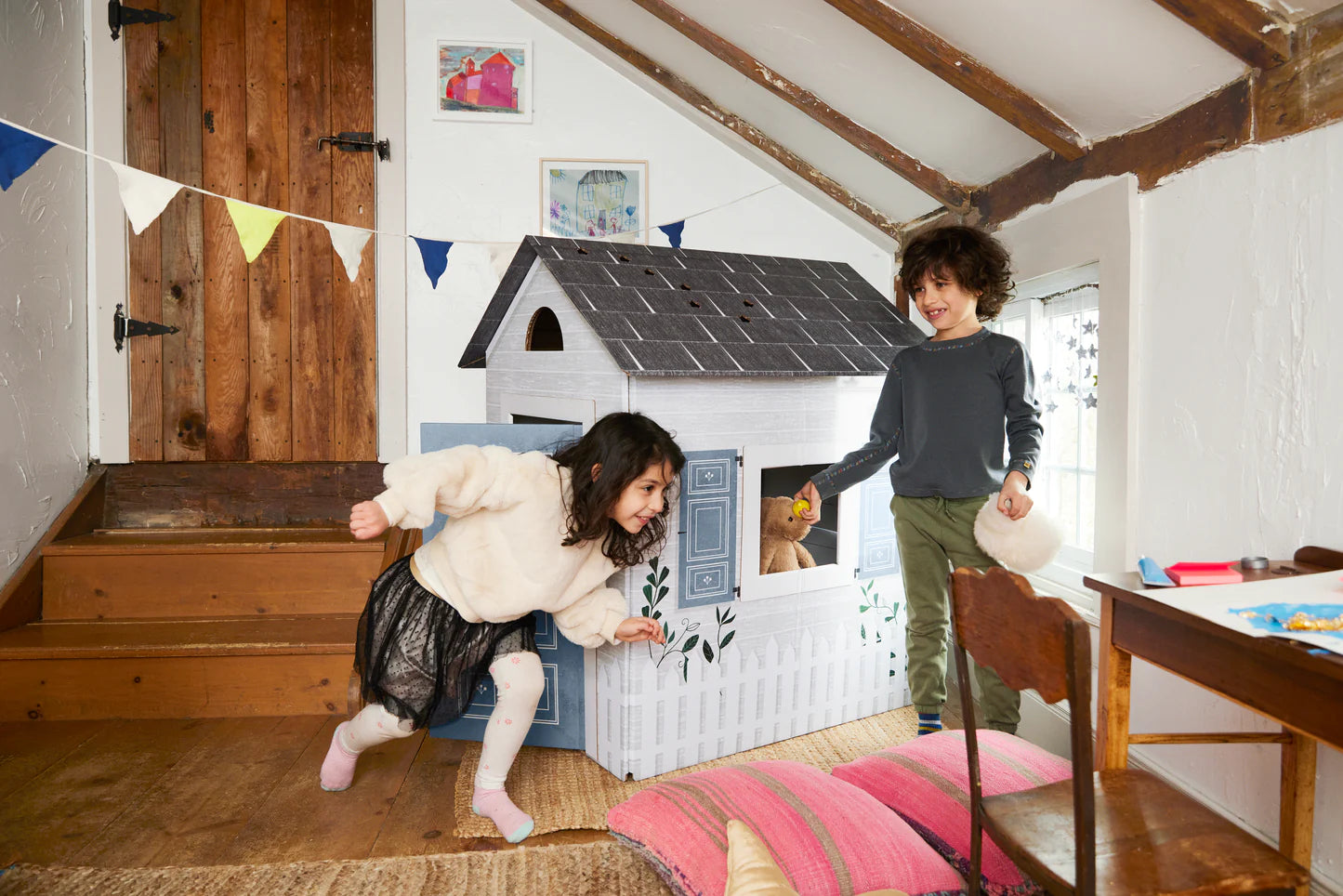 In a world that unfolds through the eyes of a child, the power of creative play is a shimmering treasure. It's where empty boxes become spaceships, blankets transform into magical kingdoms, and imagination knows no limits. Every giggle, every wide-eyed discovery, and every hearty adventure is a testament to the importance of creative play for kids. 
In the heart of this enchanting universe, we invite you to journey with us through the realms of DIY indoor playhouses – a place where ordinary materials become gateways to extraordinary fun. Join hands with your inner child as we explore the magic of crafting, creating, and igniting the flames of imagination in your little ones' hearts.
The Classic Fort: Blanket And Pillow Haven
Haven: Remember the joy of building blanket forts as a child? Now, you can pass on that magic to the younger generation. Discover the steps to create a cozy haven:
Let's Embark On An Adventure Together:
Step-By-Step Guide: Imagine guiding your little explorer through the construction of their very own fortress. Blankets are draped, pillows are stacked, and suddenly, the living room transforms into a magical domain. Follow our step-by-step guide to master the art of creating a simple blanket fort that's sturdy enough for epic adventures and cozy enough for secret stories.
Creative Variations: But why stop at the ordinary? Unleash your innovation by incorporating furniture and everyday items into your fort-building arsenal. Chairs can serve as fort walls, and dining tables can extend the fortress boundaries. You'll be amazed at how a dash of creativity can elevate your child's hideaway into a multifaceted play space.
Imaginative Play Ideas: Once your masterpiece stands tall, it's time to dive into a world of play limited only by the reaches of your child's imagination. The fort becomes a theater for impromptu storytelling, a laboratory for science experiments, and a refuge for cozy reading sessions with stuffed companions. Inside its fabric walls, your child's creativity becomes the guiding force, and every corner holds a new adventure waiting to unfold.
Cardboard Castle Adventures
Cardboard boxes are a great way to create a fun and imaginative playhouse for your kids. You can use one large box to create a castle, or use several smaller boxes to create a variety of rooms. You can decorate the castle with markers, crayons, or paint, and add furniture and accessories from around the house.
Here are some ideas for decorating and personalizing your cardboard castle:
Use markers to draw windows and doors.

Cut out shapes for windows and doors, and cover them with fabric or paper.

Add furniture and accessories from around the house, such as chairs, tables, and blankets.

Let your kids decorate the castle with their own creativity!
Whimsical Fabric Wonderland
A fabric playhouse is a great way to transform a corner of your home into a cozy and inviting space for your child to play. You can use any type of fabric you like, but some popular choices include:
Cotton

Linen

Fleece

Polyester
Once you have chosen your fabric, you will need to create a sturdy structure for the playhouse. You can do this by using PVC pipes, wooden dowels, or even cardboard boxes.
Once the structure is in place, you can drape the fabric over it. You can use pins or hot glue to secure the fabric in place.
You can also add some fun details to the playhouse, such as curtains, pillows, or rugs. Let your child's imagination run wild!
Choosing Fabrics And Creating A Sturdy Structure
When choosing fabrics for your fabric playhouse, it is important to consider the following factors:
The Age And Interests of Your Child

: If your child is young, you may want to choose soft and comfortable fabrics that are easy to clean. If your child is older, you may want to choose fabrics that are more durable and can withstand a lot of wear and tear.

The Size of The Playhouse

: The size of the playhouse will determine how much fabric you need. Make sure to measure the playhouse carefully before you buy your fabric.

The Color And Pattern of The Fabric:

The color and pattern of the fabric can help to create the mood and atmosphere of the playhouse. Choose fabrics that your child will love and that will inspire their imagination.
Once you have chosen your fabrics, you will need to create a sturdy structure for the playhouse. You can do this by using PVC pipes, wooden dowels, or even cardboard boxes.
The structure should be tall enough for your child to stand up in and wide enough for them to move around comfortably. It should also be sturdy enough to support the weight of the fabric.
Storytelling And Creative Expression Through The Playhouse
A fabric playhouse can be a great way for your child to use their imagination and creativity. They can use the playhouse to act out their favorite stories, create new characters, or simply relax and daydream.
You Can Encourage Your Child's Storytelling And Creative Expression By:
Reading books to your child: Reading books can help to spark their imagination and give them ideas for their own stories.

Providing them with art supplies: Art supplies, such as markers, crayons, and paints, can help your child to create their own characters and props for their stories.

Asking them questions: Ask your child questions about their stories and encourage them to elaborate on their ideas.

Being supportive and encouraging: Let your child know that you are interested in their stories and that you think they are creative.
Nature-Inspired Play Nook
If you want to create a nature-inspired play nook for your child, you can use natural materials, such as leaves, branches, and rocks. You can also add plants and flowers to bring the outdoors in.
Incorporating Elements Like Artificial Grass, Tree Branches, And Nature Decor
A nature-themed indoor play space can be a great way for kids to connect with the natural world, even when they can't go outside. Here are some ideas for incorporating elements like artificial grass, tree branches, and nature decor:
Use Artificial Grass As A Playmat: Artificial grass is a soft and comfortable surface that is perfect for kids to play on. It can also help to create a sense of being outdoors.
Add Tree Branches To The Walls: Tree branches can be used to create a natural canopy for the play space. They can also be used to hang plants or toys.
Decorate With Nature-Inspired Objects: There are many different nature-inspired objects that you can use to decorate the play space. Some ideas include:
Rocks

Leaves

Pinecones

Flowers

Shells

Animal figurines
Conclusion
A nature-themed indoor play space can be a fun and educational space for kids of all ages. By incorporating elements like artificial grass, tree branches, and nature decor, you can create a space that is both inviting and stimulating. And by providing nature-based play activities, you can help kids learn and explore the natural world.
The possibilities are endless when it comes to creating a DIY indoor playhouse. The most important thing is to let your kids' imaginations run wild. With a little creativity and effort, you can create a special place where your kids can let their imaginations run wild and have endless hours of fun.
---